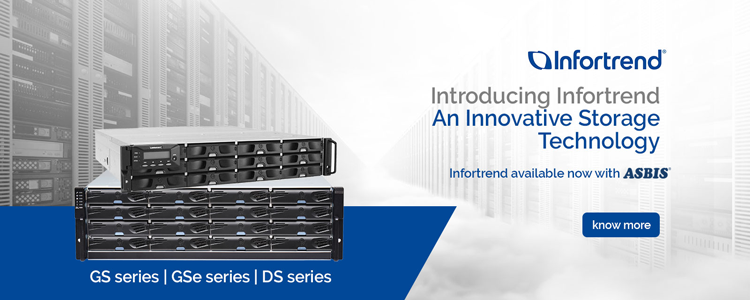 EonStor GSe Pro Family
Enterprise-class Features in the Most Affordable NAS
EonStor GSe Pro 200 Desktop NAS for SMBs and Workgroups
EonStor GSe Pro 200 fully supports data storage, cross-platform file sharing and cloud integration in a desktop form factor. The powerful quad-core processor and built-in 10Gb Ethernet ports deliver optimum data transfer performance with an centralized user-friendly management tool. The compact tower storage featuring sleek metal casing and whisper quiet design packs multiple benefits for group operating with space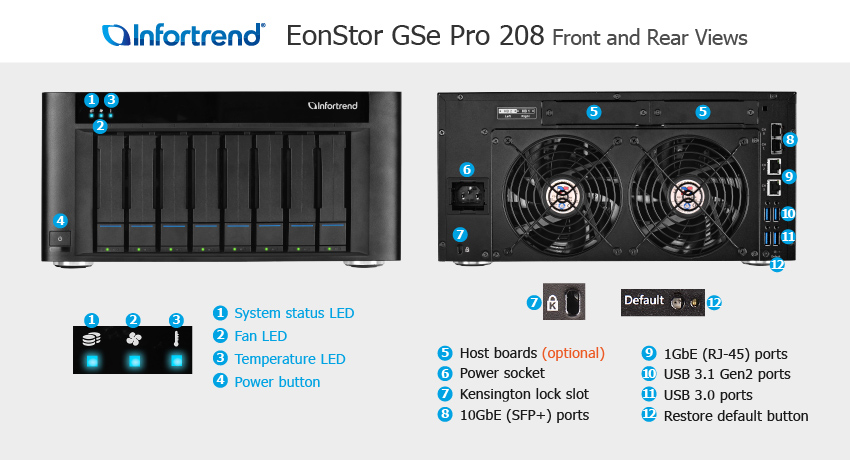 EonStor GSe Pro 3000 Scale-out Rack-Mounted NAS for SMB
EonStor GSe Pro 3000 is a unified storage for SMB offering hassle-free management, cloud storage integration, and the scale-out function to linearly expand performance and capacity up to 16PB for future data growth. It provides up to two modular host board slots for more deployment flexibility.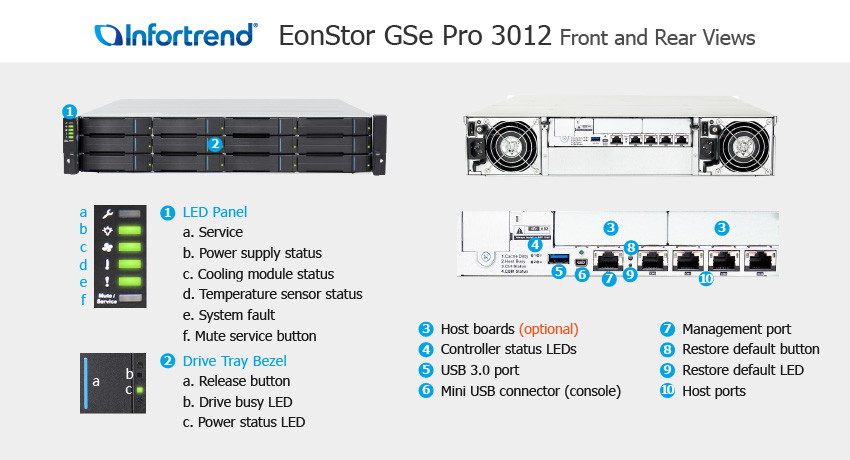 EonStor GS 4000U Extremely High Performance All-Flash U.2 SSD Unified Storage
EonStor GS 4000U is a high performance storage delivering 22 GB/s massive sequential throughput. It is ideal for extremely demanding applications, e.g., HPC, M&E, virtualization, and database. It supports scale-out function to form a cluster with up to 4 GSs and optimized performance.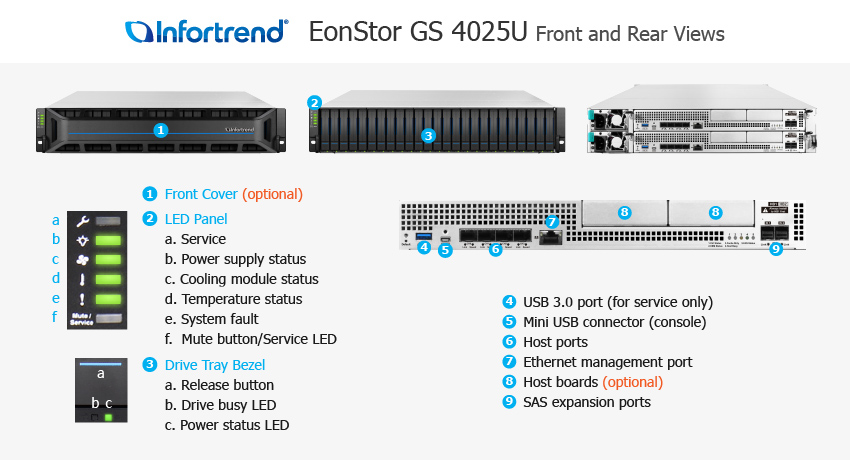 EonStor GS 4000 Gen2 High Performance Enterprise NAS/SAN/Cloud Gateway Storage
EonStor GS 4000 is a high availability storage integrating SAN, NAS and Cloud Gateway features to provide a powerful hybrid cloud environment. Delivering exceptional performance of 10/5.5 GB/s read/write speed, it addresses the needs of extremely high I/O workloads of HPC and cloud computing.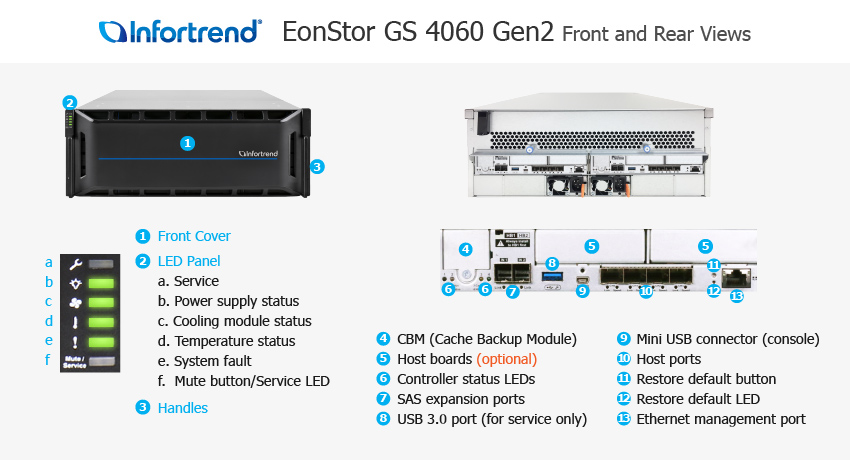 EonStor GS 1000 Gen2 Entry-level Cost-effective Unified Storage for SMB
EonStor GS 1000 integrates NAS/SAN/Cloud in one device providing easy configuration and maintenance. It supports SAS 12 Gb/s for faster performance, flash or hybrid configurations, modular design, and complete cloud features, — all at an SMB-friendly price.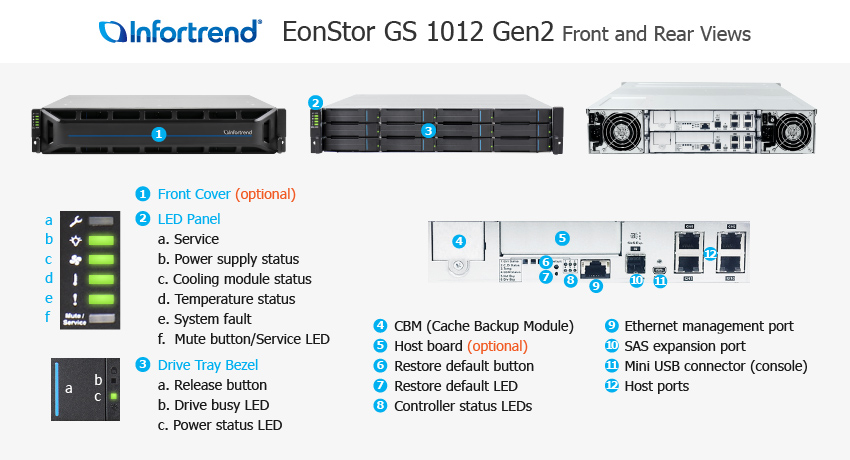 Expansion Enclosure JB 3000 Fast and reliable expansion enclosures for demanding enterprise storage needs
The JB 3000 series provide additional storage capacity and performance to your existing array through 12Gb/s SAS interface connections. It is easy to deploy and with its' redundant modular component design, it is easy to manage and maintain.

EonStor CS 3000 Scale-out Enterprise NAS storage
The EonStor CS 3000 is a scale-out enterprise NAS storage solution for growing networks offering the best cost/performance ratio. Equipped with 8-core processor, EonStor CS 3000 features linear-increasing performance and instant horizontal capacity scalability with minimized deployment/management efforts, complete data protection.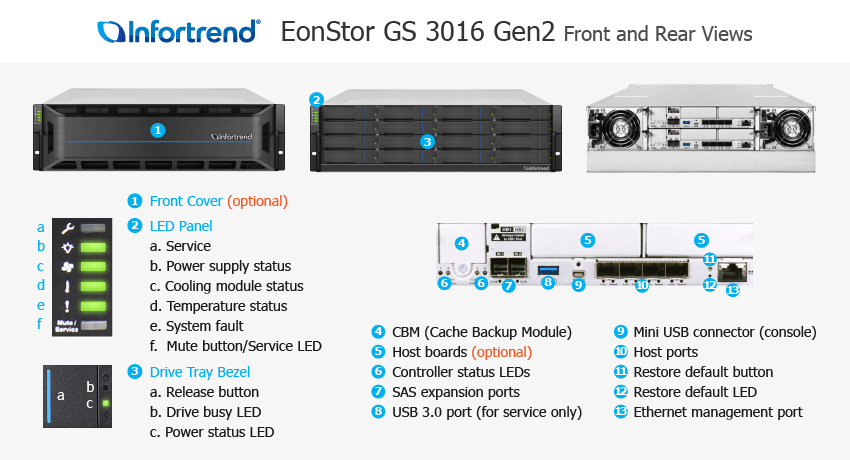 Data Service
o Snapshot
Wholesale purchases: Contact ASBIS specialists regarding Infortrend
Mr. Syed Wasiq Iqbal, Ph: +971 4 8863850, Email: syed.iqbal@asbisme.ae

Address: Jebel Ali South Zone 1, Dubai, UAE.