QNAP Dual-Controller NAS
Intel® Xeon® Dual Active Controllers for Nearly Zero Downtime High Availability
ZFS-based storage with support for data deduplication and compression, near-limitless snapshots, and SnapSync
Optimized for file server, virtualization server, VDI, online video streaming, remote backup, and more
Supports OpenStack® Cinder and Manila file sharing services

QuTS Hero NAS: TVS-hx88X Series
Intel® Xeon® W processor + Thunderbolt™ 3 expansion card = First QuTS hero Thunderbolt™ 3 NAS
Intel® Xeon® W-1250 6-core processor with up to 128 GB DDR4 ECC memory
Install QXP-T32P Thunderbolt™ 3 PCIe expansion cards to attain Thunderbolt™ 3 connectivity; built-in four 2.5GbE and two 10GBASE-T ports
ZFS supports inline data deduplication and compression, near-limitless snapshots, and real-time SnapSync


QuTS hero NAS: TS-hx83XU-RP Series
Robust Intel® Xeon® E based ZFS storage, featuring inline data deduplication, compression, and compaction
Intel® Xeon® E processor, up to 128 GB DDR4 ECC memory, multiple 10GbE ports and PCIe expandabilityo
ZFS-based storage supporting inline data deduplication and compression, near-limitless snapshots, and real-time SnapSynco
Optimized for virtualization, VDI, collaborative video editing, remote backup, and more

TS-x53DU Series
2.5GbE Rackmount NAS with PCIe Expandability
Intel® Celeron® J4125 quad-core 2.0GHz processor with AES-NI encryptiono
Two 2.5GbE ports for fast and reliable performance
Install a QM2 card for M.2 SSD caching and use with Qtier tiered storage for optimal performance
TS-x53D Series
Professional quad-core 2.0 GHz NAS with 2.5GbE connectivity and PCIe expansion
Intel® Celeron® quad-core 2.0 GHz processor with AES-NI hardware-accelerated encryption
Two 2.5GbE ports with up to 5Gbps under Port Trunking
4K HDMI output; PCIe expansion for 10GbE NIC or QM2 card for adding M.2 SSD caching

TS-x32PX Series
10GbE SFP+ and 2.5GbE high-speed NAS with high storage space
Quad-core 1.7GHz processor, supports up to 16GB RAM
Built-in 10GbE SFP+ and 2.5GbE ports to meet bandwidth-demanding applications
M.2 NVMe/SATA SSDs for caching and Qtier™ auto-tiering.
QSW Managed Switch Series (10GbE)
QNAP's 10GbE Managed Switches allow you to easily manage a hybrid high-speed network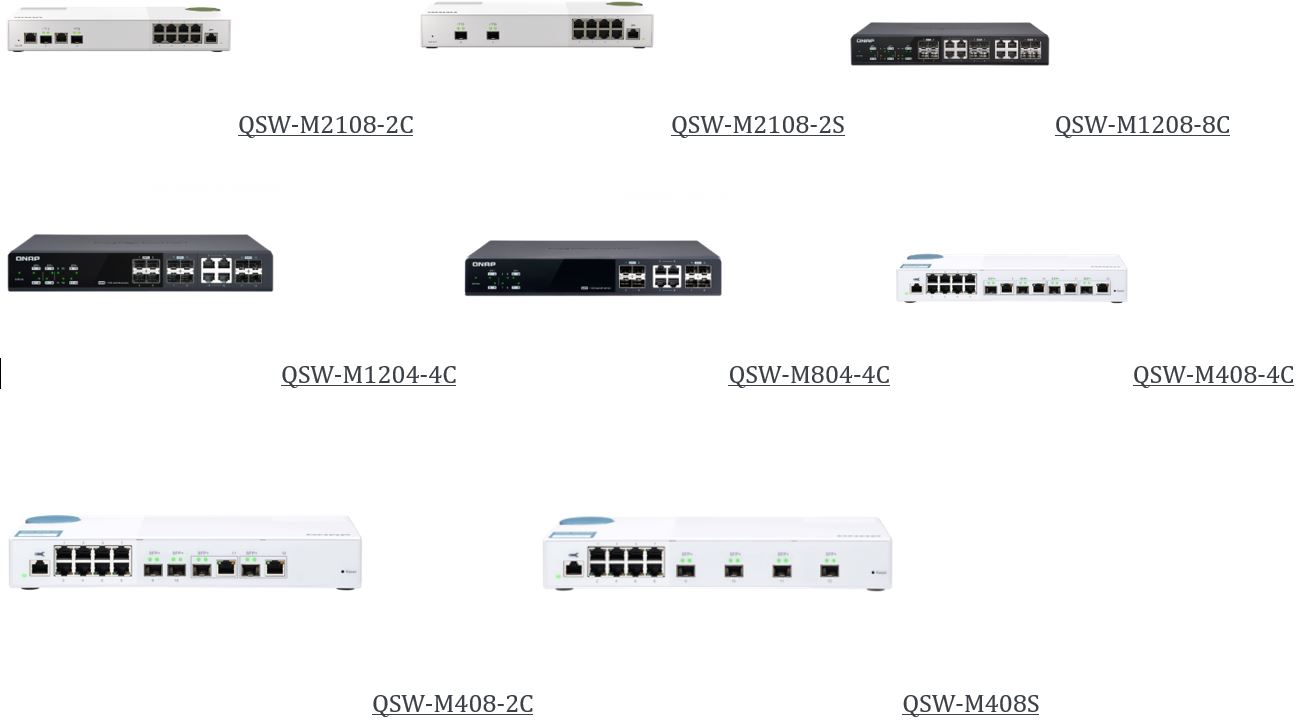 QuTScloud feature highlights
Centralized file and data management system
Set up a QuTScloud virtual NAS to create a business file server. It is packed with comprehensive features to make file management, sharing, and team collaboration a breeze.
The best file manager The web-based File Station streamlines file organization and modification. Users can easily upload files from their computer, drag and drop files between folders, rename files, delete files, and configure file and folder permissions to prevent unauthorized access.
Windows AD/LDAP integration In addition to setting authentication for individual or group user accounts, Windows AD® and LDAP integration for directory management helps simplify user administration – especially for businesses with a vast number of users.
Easy connection and anywhere access
Access via Samba share with file browser. Users can access QuTScloud via familiar protocols (including SMB/CIFS, NFS, and AFP) for file sharing across Windows®, Mac®, and Linux®/UNIX® networks. Connection through iSCSI is also supported.
Quick access via myQNAPcloud Link. myQNAPcloud Link allows connecting to QuTScloud using a unique domain name, making it easy to access, manage, and share data without requiring a static IP. Dedicated mobile apps also provide hands-on ways to control QuTScloud's file access, system management, and multimedia.
Backup center for data recovery and protection
Desktop/ laptop file backup Arrange scheduled tasks to back up Windows®, macOS®, and Linux® files to QuTScloud with ease by using NetBak Replicator, Time Machine®, and rsync respectively.
Remote backup HBS (Hybrid Backup Sync) allows you to easily transfer QuTScloud data to local, remote and cloud storage spaces, and strengthens 3-2-1 backup and recovery planning.
Snapshots and versioning Easily create multiple versions of snapshot files for data protection, backup, and recovery. The incremental backups feature helps save time and bandwidth, and data recovery from snapshots only takes a few minutes.
Cloud storage gateways for hybrid cloud connectivity Organizations canutilize HybridMount and VJBOD Cloud apps to form file-based and block-based cloud storage gateways and mount mainstream cloud storage on QuTScloud. Moving business data to the cloud becomes easy, and users can seamlessly leverage the cloud for storage, backup, and data recovery with low-latency access for an innovative hybrid cloud experience.
Expand application potential with the App Center The App Center provides various install-on-demand apps, including tools for backup/sync, productivity, and multimedia to expand the application potential of QuTScloud. For example, Qsirch is a full-text search engine that helps find specific files quickly; Qfiling automates file organization; QuMagie provides an AI-powered photo album. QuTScloud also supports hosting containerized apps, or a proxy server for optimized network bandwidth and secured network connection.
For More Information regarding QNAP: Contact ASBIS specialists
Mr. Naresh Peddapalli, Ph: +971 4 8863850, Email: naresh.p@asbisme.ae

Address: Jebel ALi South Zone 1, Dubai, UAE.